Los Angeles, California-based, non-profit group Christopher Street West organized what is believed to be the world's first permitted parade advocating for gay rights. The event was held in 1970 to commemorate the 1969 Stonewall uprising in Manhattan's Greenwhich Village. It was a watershed moment for the LGBT community in its struggle for equality, and the origin of modern day Pride.
This year marks the 50th anniversary of the Pride movement. By all rights, June—officially deemed Pride Month by the Obama administration—should have been filled with spectacular celebratory events. But COVID-19 changed everything. For the first time in decades, there were no out-and-proud parades or festivals to attend. Instead, the LGBT community gathered on social media and other virtual platforms to partake in socially distanced revelry.
"As we work through these difficult times together as a community, we must remember that Pride is not just about a specific month or weekend in June," said Madonna Cacciatore, executive director at Christopher Street West. "The cancellation of in-person events will not deter the spirit of our community, nor will it detract from the enormous impact the founders of our movement have had on history."
Support for the LGBT community runs deep in the cannabis industry, this year, and every year. Whether through limited edition product releases, sales-based charity donations, or educational outreach, the industry celebrates Pride alongside its LGBT friends and neighbors.
We're proud to highlight a handful of cannabis companies that made this year's virtual Pride a little brighter.
---
Los Angeles vape brand Besito will donate 5 percent of all sales proceeds from June and July to the Los Angeles LGBT Center. "As a queer-led company, we remain committed to creating a space for womxn, BIPOC, and the LGBTQ+ community within cannabis," the company said.
---
Eaze and its brand partners Cann, Grav, Leune, Punch Edibles, Plus Products, and Wyld joined together to celebrate "Pride Week." Eaze will donate a portion of proceeds from sales of the brands' products to LGBT organizations including the San Francisco and Los Angeles LGBT centers, Equality Texas, and the SF Bay Area Queer Nightlife Fund.
---
Helmand Valley Growers Company (HVGC) dedicated Pride month to the life and work of World War II hero Alan Turing. HVGC donates 100 percent of its profits year-round to medical cannabis research.
"Our goal is to celebrate Alan Turing's life by bringing awareness of who he was and what he did for the world," said Bryan Buckley, founder and president for HVGC. "As a math genius, the founding father of computer science and artificial intelligence, his contributions were far ranging and pathbreaking. Highlighting Alan on our social media this Pride month is our way of showing how proud we are to support our LGBTQ+ community."
---
Kiva Confections re-released its limited-edition Tropical Punch Camino gummies in honor of Pride 2020 and hosted a series of discussions on its Instagram channel. The company also pledged to donate $15,000 to GLAAD.
"Marking this month is important," Kiva wrote. "Considering it in the context of where we are today is important. So instead of hosting a Pride celebration, we're inviting our friends @monetxchange and @thejinkx to host a series of Pride conversations, right here on our IG Live. They'll be discussing their experiences and observations these past weeks, the connection between the LGBTQ+ community and cannabis, and more."
---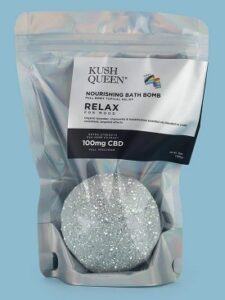 Female-founded beauty brand Kush Queen released a limited edition 2020 Pride Collection featuring glittery bath bombs, CBD gummies, and lubricant. The company also revamped its traditional give back program.
"This year, we decided to take a different approach on how we support our community partners," Kush Queen said. "As a cannabis company, we've been turned away and asked not to make public statements about supporting organizations. This 'hi, we'll take your money but don't promote it' attitude influenced us to stop our support at donations. Even though over the past three years we have donated $30,000.00 between TransLife Line, Born This Way Foundation, Be You TiFul Foundation, and Operation Beagle Freedom; simply donating money is not enough.
"Kush Queen is committing $25K in cash and in-kind donations during the course of the rest of 2020 to our partner [Asylum Connect]. In addition to monetary donations, we will be using our platform to promote Asylum Connect on our social media, email marketing, and websites."
---
Lowell Herb Co. released a limited-edition Pride 2020 collection celebrating its farm partners Tuff-n-Tendergrass and Ventoso Farms. The collection includes a limited-edition, Pride-themed 'Certified Original' t-shirt and two new limited-edition strains, Magic Melon Sativa and Blueberry Muffin Indica. Lowell will donate 20 percent of proceeds from the Pride collection to GLAAD and The National Black Justice Coalition.
"Our family of farms is at the core of our brand; they are our neighbors and community," said Chief Executive Officer David Elias. "We proudly list our farm partners front and center on our packaging every day, but our Pride collection was an opportunity to dive deeper and highlight our farm partner's stories as well as their craft cannabis. We're pleased to launch these incredible strains and share those stories with you in celebration of Pride month."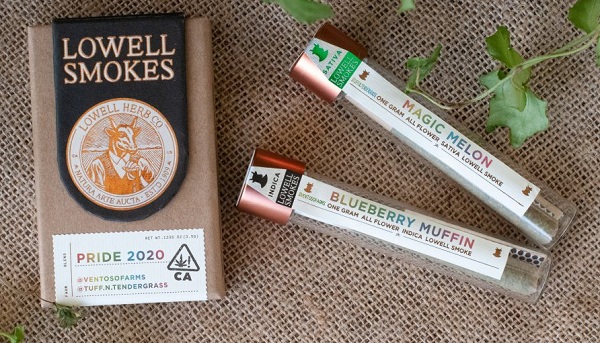 ---
For the sixth year in a row, Mr. Moxey's partnered with dispensaries in Washington, Oregon, Colorado, and California to support local organizations serving LGBT communities. Through its Giving Mint fundraiser the company is donating $1 per tin sold of its limited-edition Peppermint PRIDE Pastilles to charities including Lifelong's Chicken Soup Brigade, the Q Center in Portland, the SF LGBT Center, and Colorado's The Center on Colfax. An additional $1 per tin sold will be donated to Black Lives Matter in support of the organization's work to combat violence and systemic racism.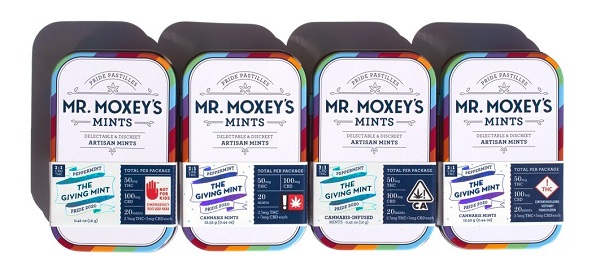 ---
Queer owned and operated cannabis company Sonder will be donating a portion of its June sales proceeds to the Santa Cruz Diversity Center.
---
San Francisco-based SPARC launched an exclusive 'Unicorn OG' cartridge and will donating $1 from each sale to the GLBT Historical Society. The company also delivers free cannabis products to AIDS patients twice a month.
---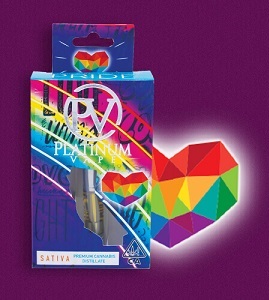 Platinum Vape's social equity program, REACT, is a year-round program that focuses on eight different charities, including Pride organizations. The company donates up to 25 percent of proceeds from REACT's Pride-themed vape cartridges each June to Equality California and Equality Michigan.
Other charity-focused vape cartridges in the REACT line include Animal Rescue, Breast Cancer Awareness, Veteran Support, Suicide Prevention, End World Hunger, Children's Hospital, and Brain Tumor Awareness.
---
In addition to its donation program through Eaze, Plus Products re-released its limited edition Plus Pride Rainbow Sherbet gummies for 2020 Pride. For each tin sold throughout the month of June, the company will make a $1 donation to the SF Queer Nightlife Fund to provide direct financial relief to workers in San Francisco's queer nightlife scene who have been affected by the COVID-19 pandemic.
"This year, in light of the COVID-19 pandemic, PLUS sought an opportunity to focus our impact on those within the LGBTQ community disproportionately affected by the financial hardships the pandemic has caused as we all shelter in place here in California," said co-founder and Chief Executive Officer Jake Heimark. "Nightlife is center stage for queer culture, history, and the continued advancement for LGBTQ rights in our country. People working to keep this integral part of queer life empowered and vibrant have suddenly found themselves out of work. The SF QNF has stepped in to help the most vulnerable members of their community in a time of great need."
---
For the second consecutive year, Rythm partnered with the GLBT Historical Society to tell the stories of LGBT activists who impacted cannabis legalization. "It is because of these remarkable humans—Dennis Peron, Gilbert Baker, and countless others—that the Compassionate Care Act of 1996 (aka Prop 215) was passed and that legal medical cannabis is a choice in our right to wellness," the company said.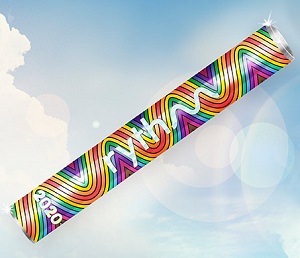 Rythm also released a special edition 510 Pride battery featuring a modernized version of the Pride flag created by Gilbert Baker. A portion of sales proceeds will be donated to the GLBT Historical Society to expand resources and exhibitions around Black LGBT history.
---
Trulieve released a limited-edition Rainbow Sherbet TruPod and accompanying rainbow patterned TruSTIK vaporizer for the month of June. A portion of sales proceeds from the cartridge and battery will be donated to eight non-profit organizations throughout Florida: Equality Florida, Tampa Bay LGBT Chamber of Commerce, LGBTQ Center of Bay County, Metro Inclusive Health, One Orlando Alliance, Pridelines, QLatinx, and 26Health.
"We are glad to be working with groups that make Florida a safer, more inclusive place for LGBTQ people," said Chief Executive Officer Kim Rivers. "This month's activities extend our long-term relationships with these non-profit organizations and build on our on-going efforts to foster diversity and inclusion throughout the company. We believe in the work they are doing and are honored to support them during Pride Month especially, but also year-round."
---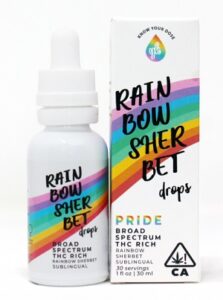 Women owned and operated brand Yummi Karma released a new formula in its YK Drops tincture line: Rainbow Sherbet PRIDE Drops. "As the first Good Karma product, a portion of the proceeds will help support LGBTQ causes throughout the State of California." the company said.

Credit: Source link